Hurry! Over 7,900 Bottles Sold Since Restock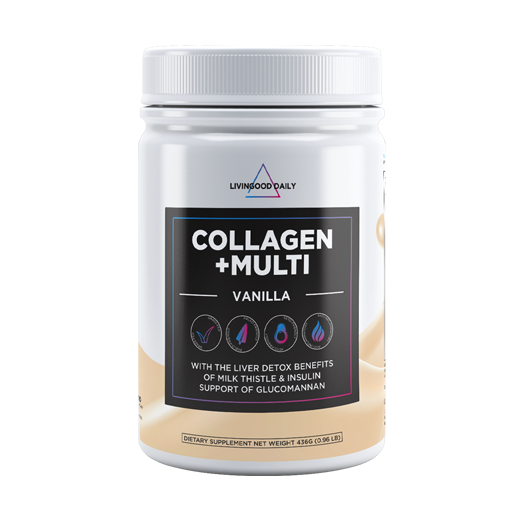 Over $1048 Worth Of BONUSES INCLUDED FREE
- 4 Days Of The Make Food Simple Masterclass ($997)


- Defeating Diabetes Cookbook ($17)


- Livingood Daily Collagen + Multi Recipe Guide ($17)
Livingood Daily Collagen + Multi
Formulated By Dr. Livingood To Support Healthy Hormones & Weight Management
The ONLY collagen drink specially designed to help you burn away belly fat… Which is the biggest cause of estrogen dominance in women over 40. Best of all, Livingood Daily Collagen + Multi comes from non-GMO, grass-fed cows right here in the USA.
Collagen + Multi Features
Healthy Weight-Loss Support With Glucomannan
​Liver Detoxifier With Milk Thistle
​Healthy Skin, Hair, and Nails Support With Collagen & Biotin
​​Healthy Brain Function With B-Vitamin
​+ A Full Multi-Vitamin In Every Scoop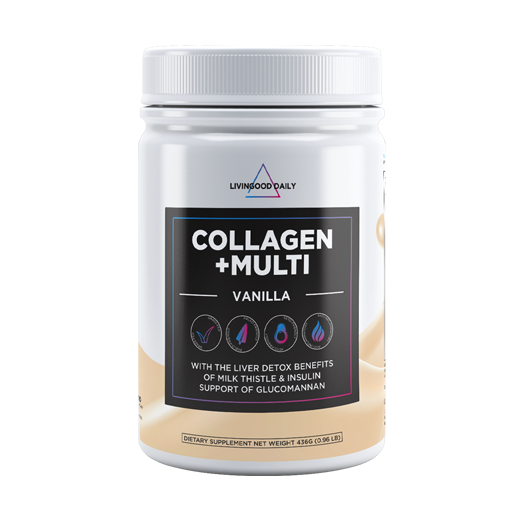 SAVE 51% | FREE SHIPPING TODAY
$34.95 Today, Then $51.81 Per Month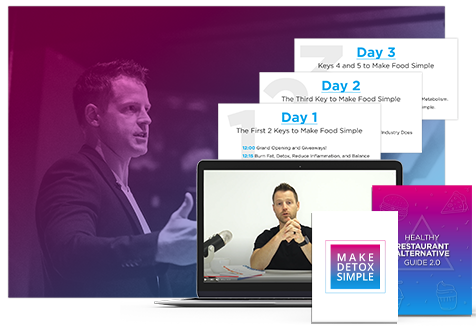 Over $1048 Worth Of
BONUSES INCLUDED FREE
FREE: 4 Days Of The Make Food Simple Masterclass ($997)
FREE: Defeating Diabetes Cookbook (instant access) ($17)
FREE: Livingood Daily Collagen + Multi Recipe Guide (instant access) ($17)
Pure Potency & Responsibly Sourced
Livingood Daily Collagen + Multi is a quick & easy way to get an ultra-clean source of protein and essential vitamins & minerals your body needs! Livingood Daily Collagen is a premium-quality collagen protein formulated to enhance your digestive health. It contains a full multi-vitamin in every scoop along with powerful ingredients like glucomannan and milk thistle to support healthy estrogen level and to help with liver detoxification.†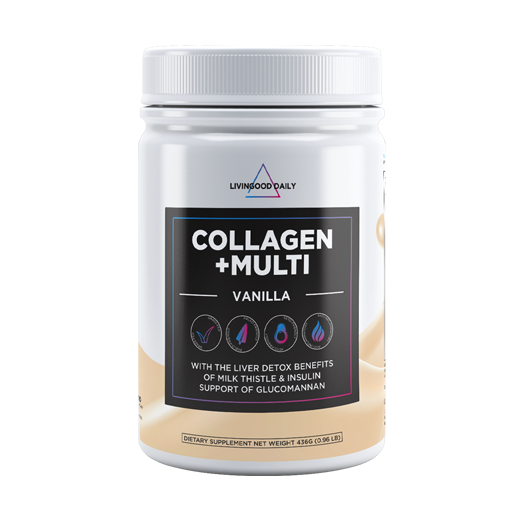 "I love using this Monday through Friday and making one for breakfast and one for lunch. The protein, along with my favorite ingredients keeps me content and full all the way to dinner! This has been such a game changer for my health and my budget as well as Im not spending money on lunch out everyday. Plus, it's delicious!" - Sarah. Livingood Daily Customer
Unlike many collagen or bone broth protein powders on the market, not only does Livingood Daily Collagen + Multi support a plethora of high-quality ingredients that address health concerns like weight-loss and gut health, it also smells and taste delicious too! Many say it smells like cookies.
Core Ingredients Include:
Glucomannan A 2005 study found that glucomannan helped people who were overweight to reduce their body weight.†
Collagen Improve skin health, wrinkles and dryness. Collagen also supports muscle mass, healthy bones and aids in the relief of joint pain.†
Biotin Biotin can reduce the occurrence of a variety of skin problems including rashes, acne, psoriasis, dermatitis and overall itchiness.†
​B-Vitamins Have a direct impact on your energy levels, brain function, and cell metabolism. Vitamin B complex supports immune health.†
​Milk Thistle The active ingredient in milk thistle, silymarin, acts as an antioxidant by reducing free radical production. Studies have shown that Milk Thistle is a great herb to use when it comes to supporting liver health and detoxification.†
LIFETIME 100% MONEY-BACK GUARANTEE
Your order is backed by a lifetime Iron Clad, 100% Money Back Guarantee.
If you're not blown away by your result, email us and we'll refund 100% of your purchase.
*Guarantee only applies to this one-time special offer on this page.
Livingood Daily Customer Testimonials
Frequently Asked Questions
What type of collagen is used?
Livingood Daily Collagen features hydrolyzed Collagen peptides for better absorption and to increase the body's production of type I and type III collagen. It is sourced from Non-GMO, Grass-Fed Cows in the USA.
What is the difference between collagen and bone broth?
Bone broth contains collagen from one source, either chicken or beef bone broth. Livingood Daily Collagen contains type 1 & 3 collagen along with 17 vitamins and minerals including a great source of energizing B vitamins, zinc, selenium, calcium, vitamin c and biotin.
Does this break my intermittent/rotational fast?
Depending on your specific health goals Livingood Daily Collagen can be taken during a fast for it only contains 52 calories, 2g carbs, and 0g sugar, so it will not spike insulin levels.
Does this product fit my dietary needs/restrictions?
Livingood Daily Collagen is Keto-friendly, Paleo-friendly, Gluten-Free, Nut-Free, Dairy-Free, Soy-Free, Anti-Inflammatory and our collagen is created in a FDA and GMP approved facility in the US. It is then 3rd party tested for heavy metals, gluten, pesticides, herbicides, and BPA to ensure quality.
Whats in the natural flavors of this product?
Livingood Daily Collagen is sweetened with monk fruit for being shown to be easier on the digestive tract and is flavored with natural vanilla bean.
Hurry! Order Now & Save Up To 51% Off
*These statements have not been evaluated by the Food and Drug Administration. This product is not intended to diagnose, treat, cure, or prevent any disease. Always consult with a qualified healthcare professional prior to beginning any diet or exercise program or taking any dietary supplement. The content on our website is for informational and educational purposes only and is not intended as medical advice or to replace a relationship with a qualified healthcare professional.
Dr. Livingood© - All Rights Reserved